Moving internationally
What you should consider, what service can you expect from internationally operating moving companies, and what costs will you incur? International moving companies also inform you about which handling options are available and which possibilities you have to compare prices for international moves.
Do you still need help with your move? Here you can find our top partner company Umzugsvergeich DE.
Get a moving quote:
Free & without obligation
Save up to 40% on moving costs
Every year, thousands of people living in Germany decide to leave the country and emigrate abroad. The reasons for international moves are many and varied. For example, some find new jobs abroad, and others try to escape the weather of Central Europe. Others are looking for new challenges or want to learn more about foreign cultures.
Moving abroad is a big step that requires comprehensive, early planning and sophisticated management. The organization is also much more extensive than moving house locally. Accordingly, it is essential to obtain detailed information about the destination country and entry and import regulations and know suitable contacts for international moves.
We have prepared three blog articles for you, which revolve around the topic of moving. Have fun reading them!
International move – what preparations are necessary?
Whether you are moving within Europe or planning an overseas move, international moves are a big challenge.
The following tasks, among others, will come your way:
Dealing with the authorities,
Find an international moving company,
Give notice to your landlord,
Packing and perhaps also storing furniture and household goods,
Checking the validity of identity cards and passports,
Apply for a residence permit (EU countries) or visa and work permit (non-EU countries),
Check insurance policies for validity abroad,
Cancel household insurance,
Cancel ard zdf deutschlandradio beitragsservice,
Set up forwarding mail from the Deutsche post,
Deregister your address,
Schedule doctor's appointments and veterinarian visits as well as
Have documents such as birth and marriage certificates been translated and notarized? Get your documents translated.
Save moving costs by decluttering
The bottom line is that many emigrants underestimate the international move to their new home. In most cases, furnishings and household items have accumulated in Germany over the years, and it is often not worth taking them with you because of the high moving costs. Therefore, it is advisable to find out in good time what, for example, furniture and kitchen appliances will cost at your destination and decide what you can do without and what you cannot. Furthermore, it would help if you sell unnecessary things on auction platforms on the Internet or at local flea markets. Check our article about household liquidation!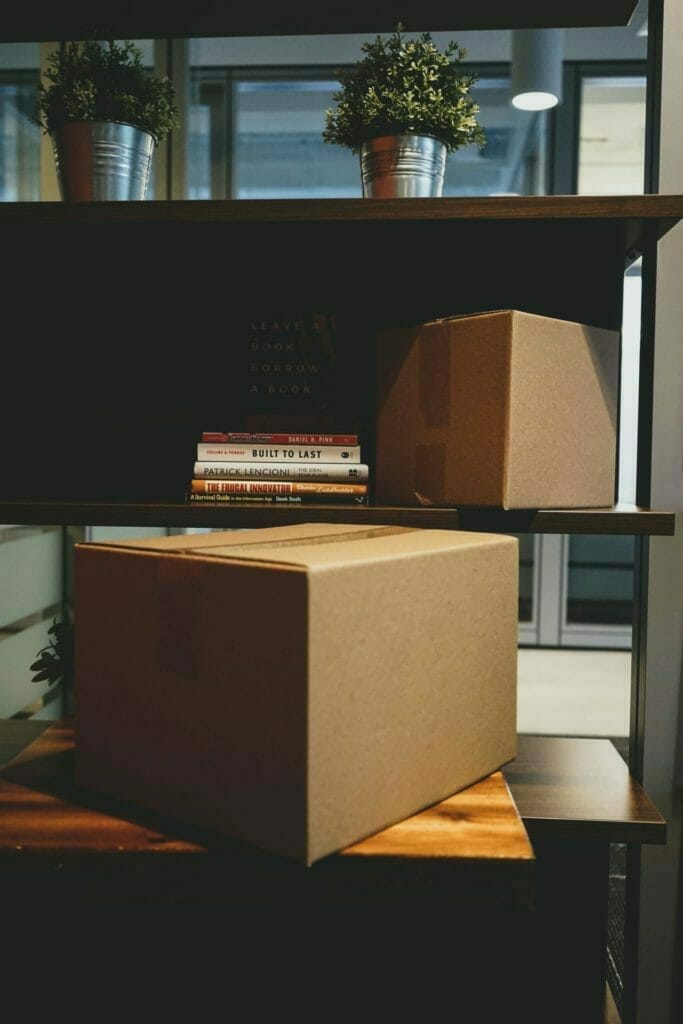 Organize your move on your own or book a moving company?
Whether you should carry out the move on your own or turn to a company for international moving depends on various criteria, not least on the destination. Accordingly, an independently carried out furniture transport is an option. You migrate with manageable removal goods to a neighboring country.
On the other hand, if you are moving overseas, you are on the safe side with an international moving company. The moving service of global moving companies usually includes the professional handling of entry and customs formalities. Some of these forwarding agencies maintain offices in the most important target countries, ensuring a smooth international move.
Our Tip for you:
International moves often occur at the month's beginning or end. Therefore, have quotes prepared in good time to avoid scheduling difficulties. Furthermore, it would be best to clarify in advance which services should be handled by the moving company to know what you still have to do yourself.
What to consider for international long-distance moves overseas?
Moving house internationally requires optimal planning, logistics, and numerous formalities. It's not just an address change. People who emigrate to another country don't only leave behind an apartment but also a large part of their life.
International moving companies share their experience and knowledge with you. They are thus available for questions regarding upcoming official procedures (German Foreign Office), overseas packing of the moving goods, loading the moving container, and customs clearance. Therefore, they allow their customers to concentrate on essential things such as professional and family issues.
Lists of moving goods enable precise planning for long-distance moves
International moves outside of Europe require a detailed listing of the moving goods, and the quantity is usually measured in-room contents (RE). For this purpose, global moving companies provide lists of moving goods, which can be used to conveniently determine how many cubic meters of cargo space are required for your international move. These lists are used, among other things, for the meticulous planning of the transport effort and the compilation of containers. In addition to a detailed consultation, the international moving service also includes, for example, an on-site visit before the moving day, during which container loading and storage specialists record the number of your relocation goods and provide you with a detailed offer.
Attention:
If international borders to so-called "third countries" (non-EU states) are crossed when booking a moving company, uncertainty factors may arise that cannot be calculated in advance. These include waiting times for loading and unloading, fluctuations in exchange rates, changes in kerosene and oil prices, and waiting times for customs clearance. For this reason, additional charges to the original quote are unavoidable in these cases. However, reputable international moving companies will advise you in advance of such impondera
What services do international moving companies offer in Germany?
Hiring an international moving company will save you time and nerves. For expatriates, moving abroad is usually a one-time affair, but it is an everyday occurrence for the professionals of international moving companies. Consequently, they are familiar with transportation issues, import and customs regulations, and all the paperwork and offer you a comprehensive service when moving abroad.
Detailed advice for international moves
Professional international moving companies take much time to discuss all the details with you well in advance of your moving day. Accordingly, the inspection of your moving goods in Germany is often part of the range of services based on which the cost estimate is later prepared.
Import regulations
In every nation, there are different regulations concerning importing the removal goods. Forwarding agencies for international moving services are aware of this or know where to find the necessary information. Many global moving companies have partners in the most popular destination countries to ensure that your belongings arrive safely at your new moving address.
Special transport packaging
Especially in the case of long transports by air or sea, for example to South Africa, the tailor-made packaging of the moving goods plays a decisive role. For this reason, the majority of international moves are carried out in steel containers, which require shock- and vibration-proof transport packaging.
Intermediate storage of the relocation goods
If you are starting your search for an apartment in the destination country or your domicile is not yet ready to move, it is impossible to take all your belongings with you immediately. Therefore, moving companies for international moves often offer the storage of your belongings near your moving address.
Secure international moves with additional insurance!
Due to the long transport routes, the risk of damaging your moving goods increases accordingly. In many cases, primary liability applies, but so-called "unavoidable" events such as natural disasters, shipwrecks, or plane crashes are excluded from liability by most insurers. International moving companies will advise you in detail about additional insurance for moving to other parts of the world.
Tip:
Many freight forwarders who handle international moves inquire with several shipping companies and airlines to compare prices and negotiate with them if necessary. In this way, you save costs when moving internationally, although the handling by a freight forwarder initially seems more expensive than moving on your own. Nevertheless, you should include possible hidden fees, such as furniture storage on-site, in your planning and carefully weigh up whether a move on your own is worth it for you.
International moves – check costs carefully!
When moving internationally, reduce costs compared to prices, as the costs are usually high. Therefore, it is essential to deal with financing in advance. For example, if the move is for professional reasons, the employer often pays part of the costs. For tax purposes, you can also claim the expenses in the case of relocation for work-related reasons. Reduce costs with Door to Door or Cost & Freight. Moving companies offer a variety of handling options for international moves.
These include:
Door to door = complete handling from door to door
Cost & Freight = handling from door to the port of entry.
In both cases, the container can be made available, which usually takes place over the weekend, so the customer has enough time to take over the loading and thus save on moving costs. The price for a 20-foot container of around 32 m³ is approximately 3,500 to 5,500 euros, depending on the destination country and the customer's service requirements.
Lower costs through container sharing
Container sharing is also an optimal opportunity to save costs when moving internationally with a moving company. With this option, you share a moving container with other interested parties, for example.
Sharing has the following advantages:
Loading can be done by yourself as well as by the moving company,
Despite low costs, there is sufficient loading space available
Last but not least, the longer transport time gives you more time to look for an apartment in the destination country.
To note:
The high costs for international moves arise because of many co-incumbents. These include the moving company, the agent responsible for handling the destination port and the port of departure (handling costs), and German customs. The shipping company (bunker surcharge = surcharge on the diesel price), the agent at the port of entry, and the local customs also earn from this, as do the port of entry (handling costs) and the moving company from the port to the place of unloading.
Sea freight or air freight for international moves
Seek the advice of a qualified moving company regarding the mode of transportation. However, there are guidelines that you can use to weigh the various options in advance.
Airfreight
If you are only taking a few things with you, air freight can fully compete with sea transport in terms of transportation costs. The transport takes approximately two weeks from pick up at your location to arrive at the destination airport. However, under certain conditions, the transit time can be shortened.
Sea freight
Shipments of up to 11 cubic meters are transported in so-called lift vans, specially made wooden crates. Loading the removal goods into steel containers is usually cheaper if the volume is bigger. You can reach this volume with just a few bulky pieces of furniture. However, sea freight takes more time than air freight.
Therefore, it is recommended to have things you need transporting by air soon after you arrive in your new home.
Our tip: Our partner will help you plan and organize international moves. In short: Request quotes for your overseas move.
Please keep in mind that we do our best to provide credible and up-to-date information, but we are not an official advisor (in the sense of the Legal Services Act, RDG) for taxes, legal matters, and the like. Our service does not replace an individual consultation with legal assistance, and we provide digital tools and automated workflows to assist with the residence deregistration and related necessary steps.
Image sources:
Zac Gudakov/ Unsplash
Erda Estremera/ Unsplash
Brandable Box/ Unsplash
Handiwork NYC/ Unsplash
Kadarius Seegars/ Unsplash
John Simmons/ Unsplash
Garry Lopater/ Unsplash